Pocket Spring 1500 Airflow Memory Foam Mattress Fast Delivery
Product Code:
MAT01AB
Availability:
In Stock
*EXPRESS FREE DELIVERY Pocket Spring 1500 Airflow Memory Foam Mattress (Pocket Sprung Mattresses)

1500 Pocket Sprung Airflow Memory Foam Mattress
Special Offer Price for Limited Period

A traditionally manufactured 1500 pocket spring interior 10" deep mattress for good posture and avoiding 'roll-together'. Features a damask cover with Airflow border and a hand tufted finish with a generous layer of memory foam at the sleeping surface.
Made in the UK
The specification and features are as follows
Available in 3' Single, 4' Small Double, 4'6 Double and 5' Kingsize
10" (25cm) aprox deep mattress
1500* individual pocket spring unit (* in a kingsize)
Layer High Density Memory Foam
Airflow border for increased ventilation
Hand tufted for extra strength
Hypoallergenic and Antibacterial - Resists bed mites and bugs - Good choice for allergy and asthma sufferers - hygenic
Firmness Rating = Medium-Firm
Cover design may vary
Complies with BS7177 Fire Retardant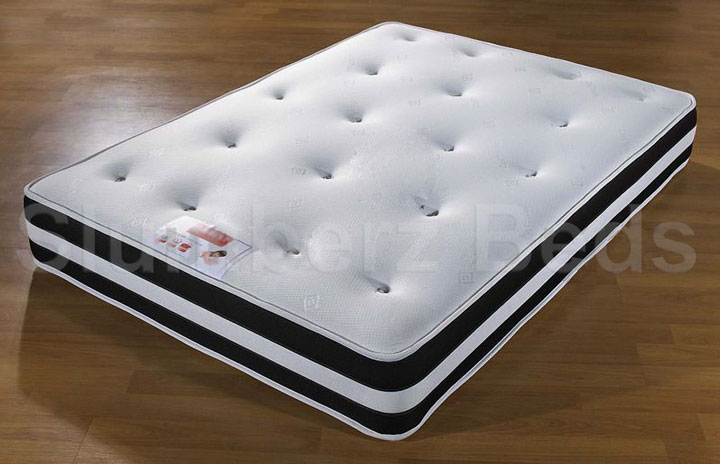 Pocket Springs for Ultimate Posture

Pocket Springs offer the ultimate in healty posture and comfort in a spring mattress. Each spring is individually nested in fabric pockets which can move independently of the other springs. This minimises any 'roll-together' when sharing the mattress with a heavier partner. The springs compress at the contact points moulding to your shape, supporting the spine and giving a luxurious feel.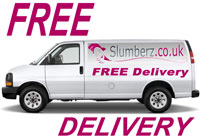 FREE FAST DELIVERY FROM NEXT DAY
Most deliveries are NEXT WORKING DAY by courier when ordered on a working day before 12:00 but can not be guaranteed and may be up to 5 working days - a contact phone number is essential as your order may be delayed without it. Service is ground floor doorstep delivery only, 0700 - 1900. We are unable to provide timed deliveries, phone notifications prior to delivery or tracking for this service. Free delivery excludes Channel Islands, Isle of Wight, Isle of Man, Scilly Isles, Scottish Highlands, Scottish Islands, Northern Ireland, PO Boxes and the following postcodes:
AB, DD, DT, EX, KW, IV, LD, PA, PH, PL, TQ, TR
Please call for delivery rates to these areas

PLEASE LEAVE US YOUR CONTACT PHONE NUMBER FOR CARRIER
Memory Foam - Its All About Support
Visco Elastic Memory Foam is a by-product of NASA space technology. Originally developed to reduce the effect of G Forces on astronauts by supporting and reducing the pressures their bodies are subjected to during take off and re-entering the earth's atmosphere.
< See memory foam in action
Memory foam has a unique open cell structure that reacts and responds to body heat and weight by moulding to the contours of your body, therefore optimising the support it can give you by almost eliminating all pressure points your body is usually subjected to. It is the most effective material for relieving pressure points and used in hospitals throughout the world for prevention of pressure sores and has multiple orthopaedic and other health benefits.
What makes visco-elastic Memory Foam so valuable as a bed material? It's ability to support your body. Unlike most mattresses containing springs that force upwards pressure against the body, Memory Foam absorbs the weight of your body, and forms a cradle that moulds to the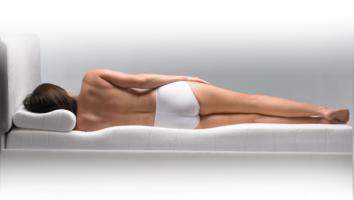 body contours without pressure or force. When you lie down on one of our Memory Foam mattresses, the unique material allows the heavier parts of your body to sink in while rising to support the rest of your body, eliminating pressure points and aligning your spine. Whenever you lie down, pressure points are the areas of your body that press the hardest into the bed. For example, if you're a side sleeper, your shoulder is your biggest pressure point. Normally, it bears much of the weight of your body. In this case, a Memory Foam mattress allows your shoulder to sink deep into the pad, while your hips and other areas are still supported, due to your weight being equally distributed across the entire mattress. Not only does this eliminate pressure points that cause restless sleep, numbness and poor circulation, it also has huge benefits for the spine, allowing vertebrae to be aligned anatomically, which reduces back pain. Memory Foam has been recommended by medical professionals, osteopaths and therapists worldwide. The health benefits are numerous, with medical trials and extensive testimonials proving that sleeping on a Memory Foam mattress can help alleviate the following conditions:
Back and Neck Pain - Correct spinal alignment has enormous benefits to back or neck pain sufferers.

Arthritis - Less stress on the joints and a more comfortable sleep can help ease arthritic pain.
Headaches and Migraines - Proper support will encourage the neck muscles to relax and help prevent tension headaches.

Allergies - Memory foam is anti- microbial and dust- mite preventative. This makes memory foam superb for people with allergies, particularly asthma.

Circulatory Problems - The weight of the body is absorbed by the memory foam preventing swollen calves and feet, chaffing and bed sores.

Stress - A deeper, more restful sleeping position helps to eradicate "tossing and turning". Correct alignment of the spine aids in restoration of the nervous system.

Pelvic and Hip Pain - A memory foam mattress will mould to the contours of the body, this reduces pressure reducing the risk of swollen hip joints or an aching pelvic area.
No More Mites, Or Restless Nights
Did you know that every time you go to sleep on your regular mattress, there are billions of tiny, eight-legged bugs eating your skin? They're called dust mites, and almost every regular mattress has its own population. Dust mites are a recognised cause of allergies and can cause
respiratory problems and even asthma attacks. One of the major advantages of our Memory Foam mattress toppers and mattresses, is that they do not provide a hospitable environment for dust mites. Mites like areas of high humidity, with lots of skin cells to feed on, so they love nesting inside your regular mattress. Memory Foam, unlike regular mattresses, does not hold dust (primarily dead skin cells) or the mites which feed on it. When dust mites can't nest inside your mattress, it's harder for them to reproduce, and less mites means a healthier sleep.
Product Details
Delivery
Next Working Day
Mattress Springing
Pocket 1500
Upholstery Layer
Memory Foam