TempraPure I0 Mattress
Product Code:
MAT11I0
Availability:
In Stock
TemperaPure I0 Mattress

TempraPure Premium Mattress
Exceptional Comfort and Support - Next Generation Mattress Technology - Fast FREE Delivery

Why buy a foam mattress? - The main reason why spring mattresses are still made is because they are cheap to manufacture. Customers often buy a spring mattress only because they have never tried anything else, but don't realise that foam mattresses utilising modern technology have many advantages and are extensively used in hospitals, care homes and other commercial applications. You will already be familiar with foam upholstery as it is widely used in sofas, chairs and most commercial upholstery.
Metal springs need lots of padding to make them comfortable but the springs push back against your body with the same force creating pressure points leading to poor blood circulation, tossing and turning, aches and joint pain.
You don't want that.
More springs means they can more closely follow your body contours, but the springs in foam mattresses are the millions of tiny air cells which distribute your weight evenly, reducing pressure points by upto 80% and generate no motion transfer waking up your partner.
Spring mattresses lose 16% of their support in the first year alone and provide an ideal environment for bed bugs.
Foam mattress are hypoallergenic and antimicrobial as dust mites can only live on the surface and not inside.
For superior support, comfort and health, foam mattresses are highly recommended.
Our TempraPure mattresses are made in Britain using the latest technology next generation foams, layered to provide exceptional comfort and exactly the right level of support for the most comfortable night's rest.
Made in the UK by a British manufacturer approved by the UK National Bed Federation, exclusively using the finest British Vita foams.
Available with express 2 working days delivery.
The specification and features are as follows
Available in 3' Single, 4' Small Double, 4'6 Double, 5' Kingsize and 6' Superking
Luxurious 10" (25cm) deep aprox overall
Hi-tech multilayer construction - 50mm Gelflex + 25mm Memory Foam + 175mm Reflex Foam
Hypoallergenic and Antibacterial - Resists bed mites and bugs - Good choice for allergy and asthma sufferers - hygenic
Firmness Rating = Medium-Firm
Delivered vacuum roll packed
2 Working Days Express Delivery service
Complies with BS7177 Fire Retardant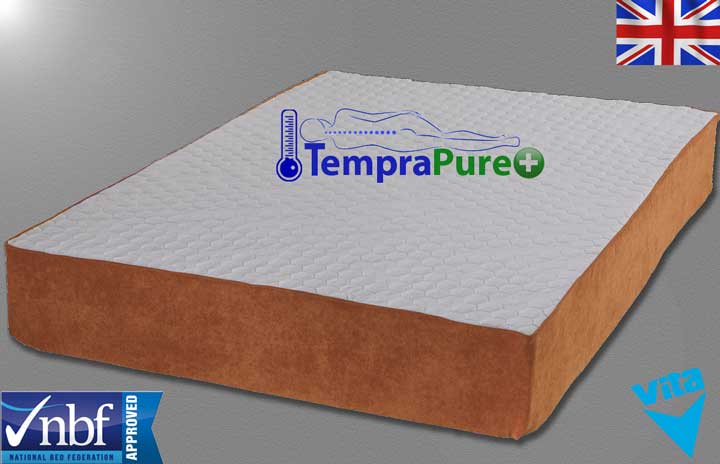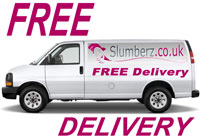 FREE EXPRESS DELIVERY IN 2 WORKING DAYS
Most deliveries are WITHIN 2 WORKING DAYS when ordered on a working day before 12:00 but can not be guaranteed and may be up to 4 working days A contact phone number is essential as your order may be delayed without it. If you would like a specific working day delivery please let us know in the comments section when you check out. Service is ground floor doorstep delivery only, 0800 - 1800 and excludes Channel Islands, Isle of Wight, Isle of Man, Scilly Isles, Scottish Highlands, Scottish Islands, Northern Ireland, PO Boxes and the following postcodes:
AB, DD, KW, IV, PA, PH



PLEASE LEAVE US YOUR CONTACT PHONE NUMBER FOR CARRIER
What Makes This Mattress So Special?

Gelflex - Laygel
Laygel moulds to your body shape but unlike memory foam it does not rely so much on heat to fully form, meaning it does not get as hot as memory foam. Due to this it also returns to it's original shape much quicker so you are not left with an indentation in your mattress. A fantastic pressure relieving material that feels and moves like gel.

Memory Foam
Memory foam was first designed in the 1960's for NASA plane seats. The average memory foam mattress literally has millions of tiny holes, and air escapes from these as the foam moulds itself around the body. This action is activated by pressure and body heat, and results in a foam mattress that offers total independent support without pressure points. Memory foam is hypo-allergenic and dust mite resistant creating a healthier sleeping environment.
Temperature sensitive material that reacts to the body
Helps keep your spine aligned
Relieves pressure on joints
No need to turn
Hypo-allergenic
Dust mite resistant
No roll together

Reflex Foam
Reflex foam, like memory foam is also a high density foam, but is constructed in a different way using Larger bubbles. When pressure is applied to the bubbles thay act in a similar way to water in a balloon - the air does not escape and instead is displaced 'sideways'.Once pressure is relieved, the bubbles spring back into shape and the mattress retains it's shape. It is for this reason that the reflex foam mattress is as popular as an orthopaedic mattress, as it offers a firm but comfortable mattress option. Reflex foam has also been found to be one of the best supportive layers providing a base when used in conjunction with other foams. Reflex from British Vita - the original bounce back foam.
Firm orthopaedic support
Helps to keep your spine aligned
Relieves pressure on joints
No need to turn
Dust mite resistant
Product Details
Delivery
2 Working Days
Mattress Springing
Reflex Foam
Upholstery Layer
Memory Foam
Roll-Packed
Yes