Beds, Bed Frames, Mattresses and Sofa Beds from Slumberz.co.uk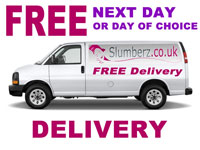 FREE DELIVERY to most UK post codes – most items NEXT DAY!
Exclusive British made divan beds which are not available in retail stores. Designer bed frames bringing that WOW! factor to your beautiful home. Sofa beds creating real style and providing an extra bed when space is at a premium. Recliner swivel chairs with contemporary design – compare our prices with retail stores! A new mattress can transform your old uncomfortable bed, providing a healthy, comfortable sleeping surface at much less cost than a new bed. Memory foam mattress toppers can even prolong the life of your existing mattress and bring extra luxury for a sound night's sleep.  A wide range of sizes and divan drawer options are available – full details are shown on each individual product listing.
Prices are the lowest in the UK. No expensive high street retail stores means low overheads so we can sell for less. You get the lowest prices and great service too. We want to build our business on customer recommendations – your referrals are our most powerful marketing tool so we know our service needs to be extraordinary. Give us a try – we promise to deliver.
Slumberz.co.uk
Unit 4 Trident Business Park
Holman Way
Nuneaton
CV11 4PN
0843 289 0711
0754 625 9666
info@slumberz.co.uk
VAT No 132 4886 10